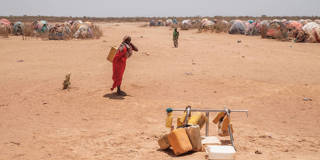 LONDON – Scientists have longed warned that climate change will adversely affect weather patterns and living conditions around the world. These warnings are now turning into a painful reality. Worse, the range of possible outcomes has proven to be increasingly "fat-tailed": extreme weather events such as heatwaves, severe storms, and floods are more likely than normal statistical distributions would predict.
None of this bodes well for future political stability or economic prosperity. Our best hope is that the sharp sting in these tails will goad us into the necessary remedial action before things get even worse. But will it?
The public is increasingly aware that global warming is leading to more volatile weather. There have been record-setting heatwaves around the world this year, not just in India – where temperatures reached 49.2° Celsius (120.5°F) – but also in places like the United Kingdom (40.2°C). France and China are experiencing their worst droughts on record, and four consecutive years of failed rainy seasons in eastern Africa have put more than 50 million people at risk of "acute food insecurity." Meanwhile, devastating storms and floods have hit Madagascar, Australia, the United States, Germany, Bangladesh, and South Africa.