Indian soldiers serving with the British army make camp in 1916. Photograph: Getty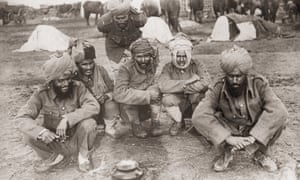 They were the forgotten voices of the first world war: 1.5 million men, mostly illiterate villagers from northern India, fighting under the command of colonial masters who repaid their bravery and sacrifices with brutality and prejudice.
More Indians fought with the British from 1914 to 1918 than the combined total of Australian, New Zealand, Canadian and South African troops. Some 34,000 Indian soldiers were killed on battlefields in Europe, Africa and the Middle East. But the part they played in the war has been largely whitewashed from history.