ARVIND SUBRAMANIAN and JOSH FELMAN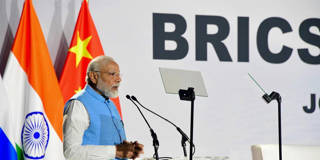 WASHINGTON, DC – The world's most powerful leaders will soon meet in New Delhi, heralding the culmination of India's G20 presidency. While the G20 has delivered very little since its early successes following the 2008 global financial crisis, there are two reasons why the group's coming summit still matters for India.
First, Prime Minister Narendra Modi has turned the G20 presidency into a major domestic issue by involving all of India in the preparations. G20 posters featuring Modi are plastered across the country, signaling his intention to present India as a key player on the global stage. The more that Indians are persuaded their country is a vishwaguru (teacher to the world), the greater the ruling party's chances in upcoming state elections and next year's national elections.
Second, India now faces a big strategic choice, following the BRICS' (Brazil, Russia, India, China, and South Africa) decision to add Saudi Arabia, Iran, Ethiopia, Egypt, Argentina, and the United Arab Emirates. Until recently, the BRICS was anomalous in design and ineffective (and thus harmless) in operation.
But BRICS+ is more political in focus, more China-centric in leadership, and more anti-West in motivation. Its composition is shaping its character. The question for India, then, is whether it still makes sense to belong to such a grouping.