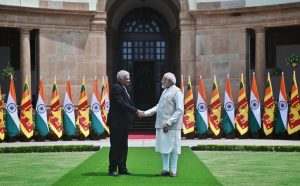 In late July, Sri Lankan President Ranil Wickremesinghe made his first visit to India since taking office. His remarks at an Indian CEOs' Forum in Colombo ahead of his trip gave a clue to the scope of the agreements to be disclosed in New Delhi. Once the country's debt restructuring process was completed, he told the businessmen, Sri Lanka's focus will shift toward a program entailing "a massive overhaul of our economy, legal framework, and systems, aligning our path with that of India."
After talks with Indian Prime Minister Narendra Modi on July 21 – a year to the day since Wickremesinghe took office – an identical statement was released, separately, by the Sri Lankan and Indian sides. Described not as a "Joint Statement" but a "Joint Vision" statement, it listed a summary of decisions, reached or anticipated, in five areas of "connectivity" – maritime; air; energy and power; trade, economic, and financial; and people-to-people.
"We have agreed on a Joint Vision of the future India-Sri Lanka economic partnership through enhanced connectivity" Wickremesinghe said, addressing dignitaries and media in Delhi.
The neutral tone and language of the statement gives no hint of the significant revamp taking place in bilateral relations, influenced by recent history. The talks come in the aftermath of an economic crisis that led to bankruptcy, when India came forward with significant financial assistance to allow Sri Lanka to import essential fuel and medicine. As inescapable as the imbalance in the power equation is the dominance of geopolitics in the new phase of India-Sri Lanka relations.
Against this backdrop, the ambiguous language used in the official communications, short on specifics in many areas, gives rise to speculation. Even Sri Lanka's Parliament is unaware of the contents of the five MoUs exchanged. Opposition Member of Parliament Udaya Gammanpila has called for them to be tabled in the House, and other opposition parliamentarians expressed dismay about the lack of clarity.