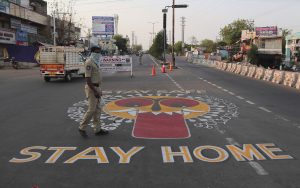 India said Wednesday that it plans to manufacture thousands of wristbands that will monitor the locations and temperatures of coronavirus patients and help perform contact tracing.
The wristband project aims to track quarantined patients and aid health workers and those delivering essential services. India is ramping up surveillance as it begins to ease one of the world's strictest virus lockdowns.
It has 19,984 confirmed cases of coronavirus, including 640 deaths, and experts fear the epidemic's peak could still be weeks away. Thousands of wristbands are expected to be deployed, but an exact figure has not been released.
The wristbands mirror a similar program in Hong Kong, where authorities used bands to monitor overseas travelers ordered to self-isolate.
Broadcast Engineering Consultants India, a government-owned company, will present wristband designs to hospitals and state governments next week and work with Indian start-ups to manufacture them.