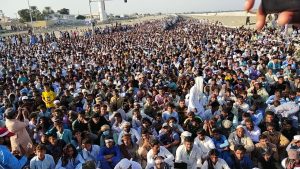 Pakistan's port city of Gwadar, the hub of the China-Pakistan Economic Corridor (CPEC), is in a siege-like situation amid unrest caused by a crackdown against protesting citizens. The city faced a blackout of mobile and internet communications for almost a week. While the mobile networks have been restored, the internet
has been shut down since December 28
. The Human Rights Commission of Pakistan has taken notice of the unofficial obstruction of information in Gwadar and asked the government to shed its tacit policy of relegating Balochistan to second-class status.
The unrest erupted when police raided a sit-in protest camp and arrested members and leaders of the Haq Do Tehreek Gwadar (HDT) movement (in English: Give Gwadar Its Rights). This was followed by mass demonstrations against the crackdown of the police and paramilitary forces.
The HDT movement, led by local leader Maulana Hidayat ur Rehman, has become a symbol of hope for the people of Gwadar in a very short span of time. The foundation of the movement rests on certain demands that found widespread support among the masses. These include an end to illegal trawling in the sea off Gwadar's coast, a reduction of security checkpoints in the region, recovery of missing persons, and an easing of curbs on border trade with Iran. These demands have been called genuine by the provincial government, but have not yet been met.