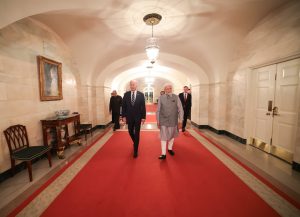 On June 22, while Indian Prime Minister Narendra Modi was in Washington, D.C. for a summit with U.S. President Joe Biden, the White House announced a major step forward in bilateral space cooperation. According to a senior Biden administration official, India will be signing the Artemis Accords and the two countries' space agencies will pursue a joint mission to the International Space Station in 2024.
That breakthrough was part of a longer trend of forging closer India-U.S. cooperation in space. The U.S. Department of State Export Control and Border Security Group (EXBS) and the Department of Commerce's Bureau of Industry and Security (BIS) hosted the U.S.-India Space Technology Industry Workshop on Export Controls in April 2023. The aim of this workshop, as per the communique, was "to expand India's commercial and defense cooperative engagement in the space sector."
This meeting came close on the heels of the signing of the agreement on Critical and Emerging Technologies (iCET) and the Space Situational Awareness Arrangement settled in April 2022 under the rubric of the India-U.S. 2+2 Ministerial Dialogue – platforms that have provided opportunities for public-private collaboration in the space sector between India and the United States. A meeting of the U.S. India Civil Space Joint Working Group had preceded the signing of these agreements, as India and the United States attempted to formulate the possible best practices within the space sector – giving a further boost to the space sector within the spectrum of the wider India-U.S. relationship.
These initiatives have brought to the fore India's burgeoning partnership with the United States in the space sector, at a time when the maritime partnership within the Indo-Pacific has been the focus of the bilateral partnership. Space, within the contours of the India-U.S. iCET framework, has emerged as a key pivot of the evolving relationship.