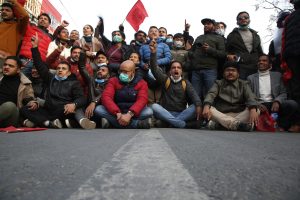 Nepalese students affiliated with Nepal Student Union chant slogans against prime minister Khadga Prasad Oli during a protest in Kathmandu, Nepal, Sunday, Dec. 20, 2020.Credit: AP Photo/Niranjan Shrestha
With the political and constitutional crisis in Nepal escalating by the day and the ruling Nepal Communist Party (NCP) undergoing a vertical split, China has stepped up its self-assumed role as mediator in the crisis.
Beijing has dispatched Guo Yezhou, a vice minister of the International Department of the Chinese Communist Party, to Kathmandu at the head of a four-member team. Since landing in Kathmandu on December 27, Guo's team has held talks with Nepali President Bidya Devi Bhandari, Prime Minister Kharga Prasad Oli, and NCP leaders Pushpa Kamal Dahal and Madhav Kumar Nepal. The team is likely to meet leaders of opposition parties like the Nepali Congress's (NC) Sher Bahadur Deuba too. The Chinese team is reportedly "taking stock" of the situation in Nepal.
However, there is more on the agenda of the Chinese mission.
According to Dahal's secretariat, in addition to the current situation in Nepal, the visiting Chinese team discussed the possibility of reuniting the NCP. China-Nepal cooperation is also said to have figured in the talks.
Guo played a major role in bringing together the Oli-led Communist Party of Nepal (Unified Marxist-Leninist) (CPN-UML) and the Pushpa Kamal Dahal-led Communist Party of Nepal (Maoist Center) (CPN-MC) in 2018 to form the NCP. Guo negotiated with the leaders of Nepal's two main communist parties in 2017-18 to get them to contest the 2017 election on a common plank