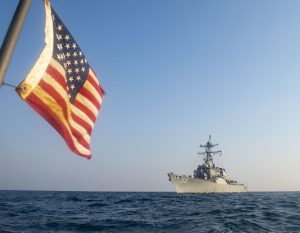 According to the United States 7th Fleet, USS John Paul Jones carried out a freedom of navigation operation near India's Lakshadweep Islands on April 7. The Arleigh Burke-class guided missile destroyer "asserted navigational rights and freedoms approximately 130 nautical miles west of the Lakshadweep Islands, inside India's exclusive economic zone, without requesting India's prior consent, consistent with international law," a statement from the Fleet claimed.
"India requires prior consent for military exercises or maneuvers in its exclusive economic zone [EEZ] or continental shelf, a claim inconsistent with international law. This freedom of navigation operation ("FONOP") upheld the rights, freedoms, and lawful uses of the sea recognized in international law by challenging India's excessive maritime claims," the statement explained.
This is far from being the first time that the United States has challenged India's position that it be served prior notice before foreign navies pass through its EEZs. Experts maintain that in order to further India-U.S. maritime cooperation, developing a common and shared understanding of international maritime law remains an imperative.
But the fact that the FONOP comes amid deepening maritime collaboration with the U.S. – and widespread enthusiasm in New Delhi's strategic community about the Quad's potential to develop a security architecture for the Indo-Pacific – has the potential to add complications. At the very least, it demonstrates that the U.S. remains concerned about what it describes as "excessive maritime claims" across the Indo-Pacific – and not just that presented by China alone in the region.