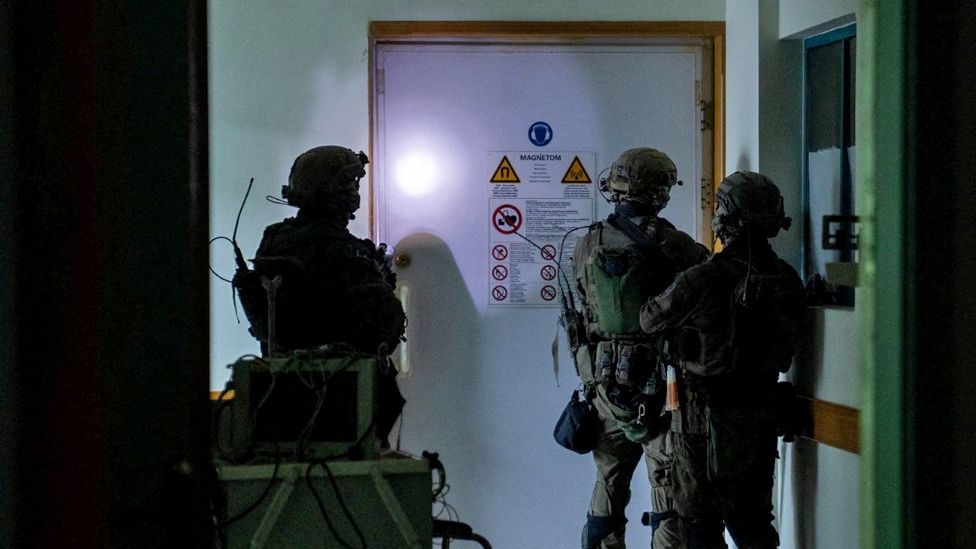 It is now days since Israeli forces entered al-Shifa Hospital in Gaza City, and what appears to be happening on Friday is that they are continuing their search for evidence of this being a key Hamas command centre.
We have to remember that there is no independent scrutiny inside the hospital; journalists cannot move freely into Gaza, and any who are reporting from the site are working under the aegis of the Israeli military.
The evidence Israel has produced, so far, I do not believe to be convincing in terms of the kind of rhetoric Israelis were using about the set-up at the hospital, which suggested this was a nerve centre for the Hamas operation.
If there was a nerve centre there - and there has been speculation about that possibility since 2014 - then the Israelis have not yet revealed definitive evidence of its existence to the outside world.
What has been recovered includes some Kalashnikov rifles - these are common in the Middle East - a tunnel entrance, of which there are many in Gaza, some military uniforms and a booby-trapped vehicle.
The discovery of and evidence for a major Hamas headquarters underneath the hospital is of course still possible.
The hospital was, after all, built by the Israelis in the 1970s during its full control of the territory, and it is a large site which will take time to thoroughly search.