Aijaz Rahi and Ashok Sharma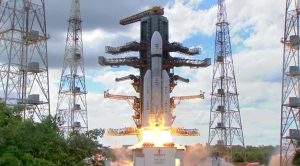 The Indian Space Research Organization's Chandrayaan-3 lifts off from Sriharikota in Andhra Pradesh, India, July 14, 2023.Credit:
Twitter/ISRO
An Indian spacecraft blazed its way to the far side of the moon Friday in a follow-up mission to its failed effort nearly four years ago to land a rover softly on the lunar surface, the country's space agency said.
Chandrayaan-3, the word for "moon craft" in Sanskrit, took off from a launch pad in Sriharikota in southern India with an orbiter, a lander, and a rover, in a demonstration of India's emerging space technology. The spacecraft is set to embark on a journey lasting slightly over a month before landing on the moon's surface later in August.
Applause and cheers swept through mission control at Satish Dhawan Space Center, where the Indian Space Research Organization's engineers and scientists celebrated as they monitored the launch of the spacecraft. Thousands of Indians cheered outside the mission control center and waved the national flag as they watched the spacecraft rise into the sky.
"Congratulations India. Chandrayaan-3 has started its journey towards the moon," ISRO Director Sreedhara Panicker Somanath said shortly after the launch.
The six-wheeled lander and rover module of Chandrayaan-3 is configured with payloads that would provide data to the scientific community on the properties of lunar soil and rocks, including chemical and elemental compositions, said Dr. Jitendra Singh, junior minister for Science and Technology.
India's previous attempt to land a robotic spacecraft near the moon's little-explored south pole ended in failure in 2019. It entered the lunar orbit but lost touch with its lander, which crashed while making its final descent to deploy a rover to search for signs of water. According to a failure analysis report submitted to the ISRO, the crash was caused by a software glitch.