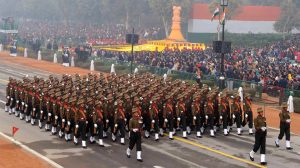 When the Indian government announced the Agnipath recruitment scheme a year ago, it was met with fierce resistance from aspirants to a career in the Indian Army in both India and Nepal.
Under the Agnipath scheme, soldiers will be hired for a fixed four-year term, after which only 25 percent of them will be retained, while the rest will be demobilized. The demobilized troops will not receive any pension benefits, except a one-time lump sum payment of roughly $14,100 at the end of their service.
Despite the resistance in India, the government went ahead with implementing the scheme and welcomed the first batch of recruits, called Agniveers, under the scheme, on January 7 this year.
However, the stalemate between the Indian and Nepali governments over the recruitment of Nepali Gorkhas into the Indian Army under the scheme continues, with no solution in sight.
When India announced the scheme, Nepal opposed it. Its then Minister for Foreign Affairs Narayan Khadka said that the government had "requested India to stop the recruitment until all political parties in Nepal reach a consensus on the [Agnipath] issue."
Gorkha aspirants in Nepal were left in limbo after the Nepali government stopped the recruitment that has been going under a unique arrangement since 1947.
In 1947, India, Nepal, and the United Kingdom signed a Tripartite Agreement to protect the rights of Gorkhas serving in Britain's Brigade of Gurkhas and India's Gorkha Rifles regiment (it does not apply to Gorkhas in the Nepali Army). The agreement comprises seven clauses ranging from protection of the Gorkha identity to the retention of Nepali citizenship while in service. The bone of contention, however, is the fourth clause which states that a "Gorkha soldier should be allowed to serve for sufficient time to qualify for a pension," which the Agnipath scheme violates.
Nearly 40,000 Nepali Gorkhas serve in the Indian Army's Gorkha Rifles regiment.