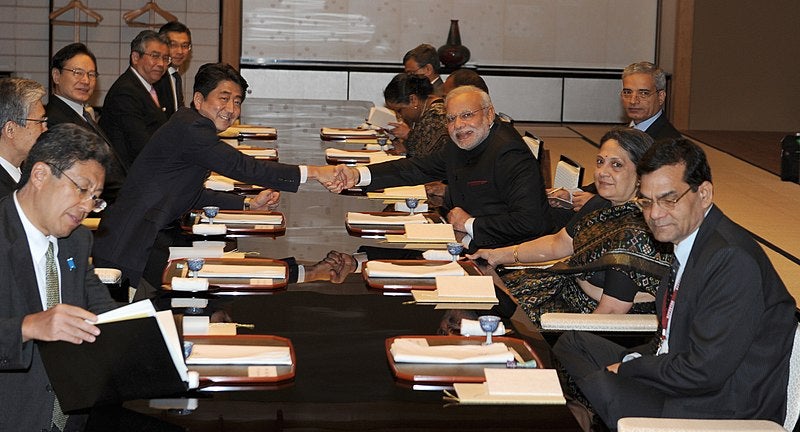 Yoshihide Suga has succeeded Shinzo Abe as Japan's prime minister. A foreign policy activist, Abe recognised India's strategic importance and worked tirelessly to take the Japan-­‐India relationship to new heights, giving both breadth and depth as no prime minister before him. Under Suga, cut from the same Liberal Democratic Party cloth as Abe, Indo-­‐Japanese bilateral ties are likely to remain safe. However, Suga's lack of experience in foreign affairs and his focus firmly placed on domestic issues, India may not be top on his list of priorities. India will need to actively leverage the strengths of the Abe-­‐era partnership in order to keep it relevant.
The unexpected resignation in late August 2020 of Shinzo Abe, Japan's prime minister and Liberal Democratic Party (LDP) president, due to illness, surprised many in Japan and around the world. Still with one full year left in his term, Abe became the longest-­‐serving prime minister in Japan's parliamentary history and exceptionally had two stints in office – one short (2006-­‐2007) and another much longer (2012-­‐2020). Abe's exit therefore truly symbolises the end of an era. He developed extensive networks with global leaders, and with some of them, such as India's Prime Minister Narendra Modi, developed close personal ties. As C Raja Mohan observes, "Few modern international interlocutors of India brought the kind of personal affection and policy innovation that Abe did in the engagement with Delhi. For Abe, India was very special."1
On his resignation, words of praise poured on Twitter handles from world leaders commending Abe for his contribution to their bilateral relations and called him a "true friend" and a "great friend". Modi, in his tweet, addressed Abe as "my dear friend" and acknowledged that due to "your wise leadership and personal commitment, the India-­‐Japan partnership has become deeper and stronger than ever before." The two nations not just deepened bilateral relations but also broadened them through cooperation and partnership in third countries and established mini-­‐lateral frameworks with other like-­‐minded nations.