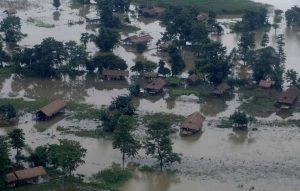 The Indian government has decided to implement a "consolidated strategy" to tackle floods and erosion in the frontier zone of the northeast, which is one of the most disaster-prone regions in Asia.
Topping the list in the new policy is a plan to set up the North East Water Management Authority (NEWMA) to facilitate a coordinated approach to check the twin dangers in the eight states of the region. The new agency will replace the Brahmaputra Board, which was set up in 1982 for the same purpose.
Giving details of the new plan, Assam Water Resources Minister Keshav Mahanta informed the state assembly that there were four attempts earlier to form a new agency in the northeast since the past several years, but they failed due to the opposition from other states in the region. He added that the entire process has been fast-tracked following an intervention by Prime Minister Narendra Modi. Assam has been the worst hit by flooding and erosion among all the states in the country. The Brahmaputra, the biggest river in the region, flows through the state with a total of forty-three tributaries on the north and south banks.