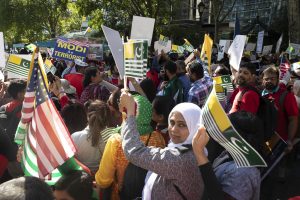 A woman holds a Kashmir flag during a protest outside the United Nations against Indian Prime Minister Narendra Modi, Sept. 27, 2019 in New York, U.S.Credit:
AP Photo/Mark Lennihan
Last week, Indian Prime Minister Narendra Modi was received in the United States for a state visit that included a dinner at the White House and an address to a joint session of Congress. Few other world leaders have addressed Congress twice. There is no doubt that the U.S. government was trying to demonstrate its commitment to increasingly close relations with India.
From a political and strategic point of view, the trip was a success for both the U.S. and India, judging by the effusive praise the political leadership of both countries heaped upon each other and by the quality and quantity of deals signed. Particularly important is a deal to produce General Electric Aerospace jet engines in India, a sign of growing military ties between the two countries. Moreover, leading businessmen, such as Elon Musk have expressed excitement about investing more in India.
The reaction from the U.S. media, think tanks, and activist groups on the other hand, was more muted.
Leading U.S. think tanks, newspapers, and magazines such as the Council of Foreign Relations (CFR), The New York Times, Washington Post, Politico, Time, and Vox all ran articles last week that advised caution, questioned U.S. President Joe Biden's warm reception of Modi, and at times even purported to be mortified at improved relations between the two countries, primarily because of human rights issues in India.
Modi's visit thus engendered two very different types of reactions from elites in the United States. This could definitely be problematic for India going forward if not checked because think tanks, journalists, and activists all influence policymakers. Indeed, the perception is growing in American media and activist circles — without correction — that democracy has "decayed" in India, that India's government is supported by "fascist forces," and that the "genocide" of its Muslim minority is imminent.