Josh Boak and Ashok Sharma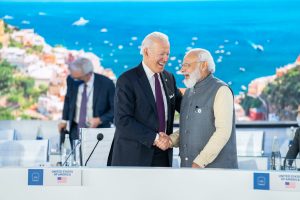 President Joe Biden has made it a mission for the United States to build friendships overseas — and the next few weeks will offer a vivid demonstration of the importance he's placing on a relationship with Indian Prime Minister Narendra Modi.
The two are both scheduled to attend this week's Group of Seven summit in Japan, a subsequent gathering of Pacific island leaders in Papua New Guinea, and a later meeting of Indo-Pacific leaders in Australia. Those travels will be followed by a June 22 state visit by Modi to Washington, a sign that both seem willing to deepen their bonds.
But like many geopolitical friendships, things are complicated between the world's largest economy (the United States) and its most populous nation (India).
The personal outreach has a clear strategic calculus as both countries respond to China's economic rise and increased global prominence. Yet while Biden champions democratic ideals and openly opposes Russia for invading Ukraine, Modi has offered tepid criticism of Russia and opponents say he is eroding India's democratic traditions.
"It's a long game of steady forward movement in defense relations and some fairly rapid intensification of business ties — with the pace of both determined by the speed of movement on the Indian side," said Kurt Tong, a former ambassador for the United States who is now managing partner of The Asia Group, a consultancy.
Biden last year publicly called India's response to the war in Ukraine "shaky." India abstained from voting on U.N. resolutions condemning Russia and refused to join the global coalition against Russia. Modi had a relatively warm relationship with Biden's predecessor, Donald Trump, and has made some efforts to forge a connection with Biden, who is known to focus on his Irish roots even when meeting with leaders of other nations.
When Modi came to Washington in September 2021, he brought with him documents about people with the last name "Biden" in India.