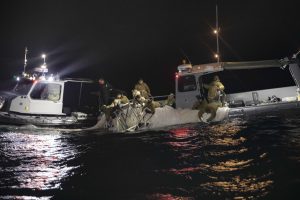 Since the
incident
surrounding the Chinese balloon that was brought down by the U.S. over its airspace in February 2023 captured world attention, there have been
reports
claiming such balloons being spotted over Indian airspace in the past.
Indian media has reported that balloons were spotted over India's Andaman and Nicobar Islands in January 2022 when a tri-service military drill exercise was in progress. These were apparently similar to the ones that floated in U.S. airspace.
An official statement from the Indian government in this regard is awaited.
Meanwhile, it is paramount for India to evaluate threats arising from air or space from any adversary, considering that India is situated between two nuclear-armed neighbors with which it has unresolved border disputes, as any miscalculated act may lead to conflict, threatening the peace of the region.
At a time when countries and companies are seeking to develop strategic aerial technologies, this article analyses whether the re-entry of space objects can be militarized by states and how would they affect India's obligations under international law.