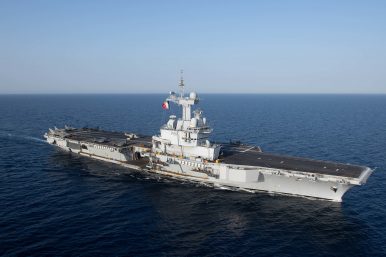 A French carrier strike group conducted exerciseswith U.S. and Australian, and Japanese warships while sailing through the Bay of Bengal this week. It is the first time the four navies have exercised exclusively together. The multi-national exercise follows a U.S. submarine joining the French group to conduct an anti-submarine exercise in the Indian Ocean.
France's Charles de Gaulle, the world's only other nuclear aircraft carrier outside the U.S. Navy, and its four escorts, was joined by a U.S. destroyer, a Royal Australian Navy (RAN) frigate and submarine, a Japanese destroyer, and the Japan Maritime Self Defense Force's (JMSDF) largest warship, the helicopter carrier Izumo(which Japan classifies as a helicopter destroyer).
The exercise, dubbed "La Perouse," after an 18th century naval officer whose squadron disappeared on an exploratory expedition in the Pacific, focused on interoperability, communications, formation steaming, live-fire weapons shoots, and search and rescue drills. Australia's Defence Ministry said the exercise also practiced humanitarian assistance and disaster relief, maritime security operations, sea control, and anti-submarine and air defense exercises.