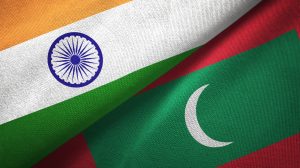 Indian Defense Minister Rajnath Singh's visit to Maldives this week to strengthen bilateral defense cooperation came at a critical juncture, with the island country planning to hold general elections in September 2023. Singh's trip was preceded by External Affairs Minister S. Jaishankar's visit in January, where he emphasized India and Maldives' shared responsibility for maintaining regional peace and security.
Such flurries of high-level visits from New Delhi are often witnessed in neighboring countries where good relations with India do not enjoy bipartisan support. In recent times, Malé's relationship with New Delhi has been swinging between the "India First" policy of current President Ibrahim Mohamed Solih and the "India Out" campaign of his predecessor and political opponent Abdulla Yameen Abdul Gayoom.
Maldives' location in the north-central Indian Ocean is of immense significance to India, for both geostrategic and geoeconomic reasons. Beyond fishing, the economic importance is enhanced by the presence of seabed minerals like polymetallic nodules in the Central Indian Ocean Basin. These nodules contain rare earth metals and critical minerals that form the backbone of green technologies like electric vehicles, solar panels, and wind turbines. As countries are moving toward zero emissions, the need to secure these minerals will lead to race among the major powers.
According to the International Seabed Authority, India has been granted exclusive right to explore polymetallic nodules in 75,000 square kilometers of the Central Indian Ocean Basin. With India making some considerable progress in deep-sea mining schemes like Deep Ocean Mission and Ocean-Services, Modelling, Application, Resources and Technology (O-SMART), Maldives can be used as a stop-over during Indian survey and exploration missions. Carrying out such activities will require a stable, peaceful, and prosperous maritime environment in the Indian Ocean, where India can carve a confident niche for itself. To make it happen, New Delhi will have to leverage the island nation in building a stable security architecture in the Indian Ocean Region.