There is no immediately obvious reason why a colony that was exploited for 200 years before winning its independence should align itself with western powers
Indian tanks at the Republic Day parade.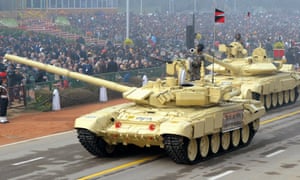 It is an annual ritual for tens of thousands of residents of Delhi: the sumptuous sight of floats, soldiers, tanks, dancers and dromedaries. Overhead roar jets. In the stands lining the path of the
Republic Day parade
, thousands cheer and wave. The visiting dignitaries – France's François Hollande this year, Barack Obama last year – nod, smile and try not to let their envy at the latest set of topline figures about their host's economic growth show too obviously
For that growth is as impressive as any of the displays of traditional arts or freshly painted armoured vehicles. It is certainly more important to India than either. New figures released by Indian authorities last week put economic growth in the emerging power at 7.5% in 2015, the highest in the world, and up from 6.9% the year before. Growth in China is heading in the opposite direction – predicted to be only 6.3% in 2016 – while the US will expand by a mere 2.6%. To spare Hollande's blushes, let's not even mention the
predictions for France
.
So, after several disappointing years, the elephant has once again begun to dance. And, in a world shaken by a series of rolling crises, anything remotely cheerful gets noticed. India's economy is the 10th or 11th biggest in the world and is forecast to reach
third
, after the US and China, in less than 15 years.