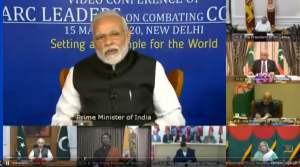 Indian Prime Minister Narendra Modi's move to convene a video conference of the South Asian Association for Regional Cooperation (SAARC) states to collectively rein in the threat of COVID-19 can be seen as a thoughtful drive to respond to China's growing influence in the region by reasserting India's leadership.
It is a good and timely initiative as COVID-19, the disease caused by the SARS-nCoV-2 virus, has created widespread concerns in South Asian countries. These countries are starting to suffer a widespread cessation of economic activity due to fears of this deadly virus. 
India pledged $10 million toward a COVID-19 emergency fund and it also announced that it would be putting together a team of specialists for the SAARC states. 
This video call played a great role in triggering SAARC, which has been sluggish since 2016. Following the 2016 Uri terror attacks that year by a Pakistan-based group, India had refused to participate in the SAARC summit, which was to be held in Islamabad. The summit was finally called off as three other nations also withdrew from the summit.
Modi's proposal now is a positive move toward smooth South Asian integration. Such a grouping is a helpful way for regional nations to show solidarity with countries that face disaster or crisis. Such integration is more effective when institutions set powerful demonstrations by helping countries in need. But now, such cooperation is under strain: countries in the European Union didn't provide any medical assistance to Italy initially, for instance. Italy is suffering greatly due to the outbreak. The European Union was seen as leaving Italians in their hour of need and now China is filling the void.