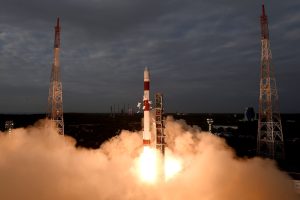 Since the arrival of Prime Minister Narendra Modi on the national scene in India in 2014, the Middle East and North Africa (MENA) region, or West Asia,  has emerged as a fulcrum of activity for the Indian government. While the traditional view holds that India's engagement with the region is primarily focused on economics, especially energy, recent events suggest that science and technology, especially convergence on issues concerning space, are increasingly dominating the narrative.
With most states in the Middle East starting their space programs in recent years, India has emerged as a reliable partner for these states. That trend will only grow with India's successful landing of a rover on the Moon.
This is an interesting development, for it points to the larger pattern of novel engagement between India and MENA. These relationships are based on questions of energy security and broadening and deepening ties in non-traditional security sectors, especially the space sector.