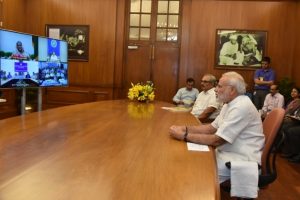 India's Prime Minister Narendra Modi and his Bangladeshi counterpart Sheikh Hasina recently launched
a railway link
between the two countries. The 10.5-kilometer-long rail line connects Haldibari in the eastern Indian state of West Bengal with Chilahati in Bangladesh.
The Haldibari-Chilahati railway line was among several overland trans-border connections that were snapped in the wake of the India-Pakistan war of 1965. Bangladesh was then East Pakistan.
But even after it broke away from Pakistan to emerge an independent country in 1971, trans-border links remained severed, a reflection of the deeply troubled bilateral ties between India and Bangladesh in the period between 1975 and 1996. It was only after the Awami League came to power in Bangladesh in 1996 that bilateral ties began improving and the Indian and Bangladeshi governments started to restore road and rail links.