India's first domestically built aircraft carrier is expected to be inducted into the Indian Navy in 2020.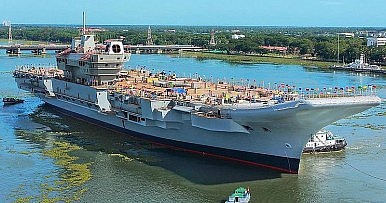 India's first domestically built aircraft carrier, the future INS Vikrant, designated IAC-1, is expected to commence sea trials in 2020, the head of the Indian Navy, Admiral Sunil Lanba, told reporters in New Delhi on December 3rd. The new carrier is reportedly slated for induction into service with Eastern Naval Command in the same year.
Notably, a 2016 assessment published by the Comptroller and Auditor-General (CAG) — the Indian government's principal oversight body—stated that the carrier would only be ready for induction in 2023. That analysis, however, was rejected by the Indian Navy earlier this year. "That was CAG's version, as far as Navy is concerned, we are confident," of meeting the earlier deadline, Commodore J. Chowdhary, the Indian Navy's principal director of naval design, said in January.