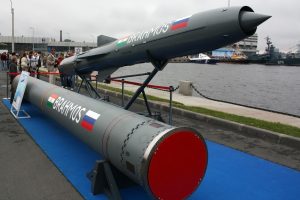 On Wednesday, Reuters
reported
that the India-based defense company BrahMos Aerospace is on the verge of closing a deal to sell Indonesia supersonic cruise missiles worth at least $200 million.
The report was based on an interview with Atul D. Rane, the CEO of BrahMos Aerospace, who said that the firm was "in advanced discussions with Jakarta on a deal worth $200 million to $350 million," as per Reuters' paraphrase. The deal will reportedly involve both the anti-ship variant of the BrahMos weapons system and a version that can be mounted on warships.
"I have a team right now in Jakarta," Rane told the news agency, adding that he expects to close the deal within the year. He added, "The defense forces of Indonesia are extremely interested."
BrahMos Aerospace, a joint venture between India and Russia that was set up in India in 1998, has been negotiating with Indonesia for a possible purchase for some time. Last July, Indian media reports claimed that the two parties were in the final stages of talks for the possible order of the shore-based variant.