Hyung-jin Kim, Kim Tong-hyung and Jon Gambrell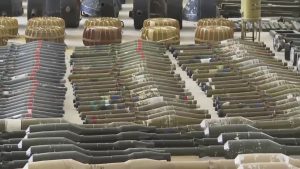 Suspected North Korean-made F-7 rocket-propelled grenades, many with a distinctive red stripe on their warhead, are seen at an Israeli military base in southern Israel.
Hamas fighters likely fired North Korean weapons during their October 7 assault on Israel, a militant video and weapons seized by Israel show, despite Pyongyang's denials that it arms the militant group.
South Korean officials, two experts on North Korean arms, and an Associated Press analysis of weapons captured on the battlefield by Israel point toward Hamas using Pyongyang's F-7 rocket-propelled grenade, a shoulder-fired weapon that fighters typically use against armored vehicles.
The evidence shines a light on the murky world of the illicit arms shipments that sanction-battered North Korea uses as a way to fund its own conventional and nuclear weapons programs.
Rocket-propelled grenade launchers fire a single warhead and can be quickly reloaded, making them valuable weapons for guerrilla forces in running skirmishes with heavy vehicles. The F-7 has been documented in Syria, Iraq, Lebanon, and the Gaza Strip, said N.R. Jenzen-Jones, a weapons expert who works as the director of the consultancy Armament Research Services.