The Taliban have gained access to some of the erstwhile Afghan Republic's embassies and consulates in Central Asia. The consulate in Tajikistan's Khorog may be the latest.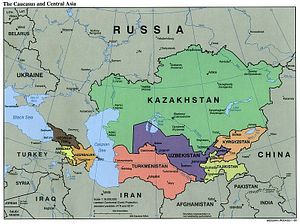 The Taliban may have secured access to another of the former Afghan Republic's diplomatic missions in Central Asia, this time in Tajikistan.
While Dushanbe has not confirmed the reports, over the weekend a Taliban Foreign Ministry spokesman said a delegation led by the head of the ministry's finance and administrative affairs office, Mohammad Musa Amiri, had traveled to the Afghan consulate in Khorog on March 23. It's not clear by what route the delegation may have traveled, but the city of Khorog — the capital of Tajikistan's Gorno-Badakhshan region — sits on the border with Afghanistan where the Ghunt and Panj rivers converge.