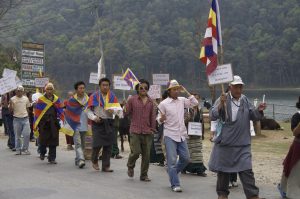 On May 20, U.S. Under-Secretary for Civilian Security, Democracy, and Human Rights, who is also the Joe Biden administration's Special Coordinator for Tibetan Issues,
Uzra Zeya
, visited Nepal. Her trip followed a flurry of high-level visits by American officials since Nepal's ratification of the $500-million Millennium Challenge Compact, in February 2022.
During her visit, Zeya met with high-level officials, including Prime Minister Sher Bahadur Deuba. However, it was her visit to two Tibetan refugee camps in Kathmandu that caught the most media attention.
Enroute to Nepal, Zeya stopped in India, where she met with the Dalai Lama, the spiritual leader of Tibetan Buddhists. Days before she embarked on her South Asian tour, the president of the Tibetan government-in-exile Penpa Tsering had toured the U.S.