Numan Bhat and Mehroob Mushtaq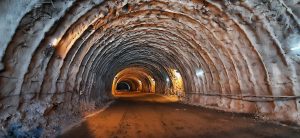 In a strategic push to enhance connectivity and strengthen border infrastructure, India is undertaking the ambitious Zojila Tunnel project near the tense China border. Nestled amidst the rugged terrain of the Himalayas, the tunnel aims to provide year-round access to the army and residents of the region, ensuring safer and more secure transport.
The Zojila Pass, situated between Srinagar and Leh, has long been a crucial route for the movement of military troops and goods, especially during winter, when heavy snowfall makes other passes inaccessible. However, the pass remains highly vulnerable to avalanches and landslides, leading to frequent disruptions in connectivity.
The project to construct the Zojila Tunnel was inaugurated in May 2018 by Prime Minister Narendra Modi. It is being implemented by the National Highways and Infrastructure Development Corporation. The Zojila Tunnel will be a two-lane highway 9.5 meters wide and 7.57 meters high in the shape of a horseshoe. The New Austrian Tunnelling Method, an advanced technology, is being used.
The 14.15-kilometer-long Zojila Tunnel, situated at an altitude of over 11,500 feet, is an engineering marvel, piercing through the daunting Zojila Pass and ensuring connectivity remains uninterrupted even during extreme weather conditions. It is expected to be completed by 2026.
The project is estimated to cost around 68.09 billion Indian rupees. The construction of the tunnel is a herculean task, with workers confronting treacherous terrain and extreme weather conditions. The terrain is characterized by steep slopes, rocky surfaces, and unstable glaciers, making the construction process challenging. Despite these difficulties, the workers are determined to accomplish their mission and provide a lifeline to the region.