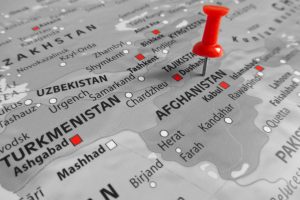 On July 18, Afghanistan, Pakistan, and Uzbekistan signed an agreement on a tripartite trans-Afghan railway project connecting the three countries. The line will connect Pakistan's Kurram border crossing Kharlachi with Termez in southern Uzbekistan. The project is expected to be completed by the end of 2027, and by 2030 trains may be able to transport up to 15 million tons of cargo annually.
The idea of a railroad running from Uzbekistan deep into Afghanistan has been on the agenda for the past six years. In December 2017, Uzbek President Shavkat Mirziyoyev signed an agreement on the project with his Afghan counterpart, Ashraf Ghani. There was an attempt to revive the agreement in a broader form in 2018 by the heads of the state railway companies of Afghanistan, Kazakhstan, Pakistan, Russia, and Uzbekistan. In December that year, they met in Tashkent to discuss plans to build a Mazar-i-Sharif-Kabul-Peshawar railway line. The project was, however, delayed and eventually scrapped, for a variety of reasons including the Taliban takeover of power in 2021. On July 19, Mirziyoyev addressed the first Gulf Cooperation Council-Central Asia Summit in Riyadh and asked the GCC member states to participate in the railway project, advertising it as connecting the Gulf countries to Central Asia.
The revival of the trans-Afghan railway project and the Uzbek president eliciting support for it may not necessarily lead to its fruition. Moscow is no longer interested and neither is Kazakhstan. However, what is important to note here is Uzbekistan's determination to make it a success. On a broader plane, it represents a season for engaging the Taliban, which Tashkent has been willing to revel in. For a country that supported the Northern Alliance in the 1990s against the Taliban, this has been a dramatic overhaul of state policy.
Contrast that with the following incident. So much was the trust between Tashkent and the Afghan administration that immediately after the Taliban takeover, Afghan air force pilots and personnel left the country on planes to third countries. Twenty-two military aircraft and 24 helicopters flew to Uzbekistan. Tashkent refused to return them to the Taliban, saying that the aircraft belonged to the United States.
The break with the past, however, came within a month of the Taliban taking over power in Kabul. On September 20, 2021, Ismatulla Irgashev, Uzbek president's special representative on Afghanistan, talked of road and railway connections with Afghanistan to ship "food and medical supplies."