By Aniruddha Ghosal and Emily Schmall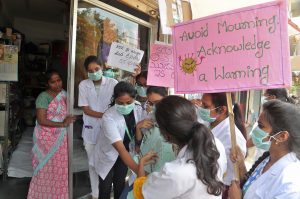 India is bracing for a potential explosion of coronavirus cases as authorities rush to trace, test, and quarantine the contacts of 31 people confirmed to have the disease. 
It is screening international travelers at 30 airports and has already tested more than 3,500 samples. The Indian army is preparing at least five large-scale quarantine centers.
For weeks, India watched as cases of COVID-19, the disease caused by the virus, multiplied in neighboring China and other countries as its own caseload remained static — three students evacuated from Wuhan, the disease epicenter, who were quarantined and returned to health in the southern state of Kerala. 
Prime Minister Narendra Modi's government said last week that community transmission is now taking place. India has shut schools, stopped exporting key pharmaceutical ingredients, and urged state governments to cancel public festivities for Holi, the Hindu springtime holiday in which people douse each other with colored water and paint.
Modi canceled travel plans to Brussels for an India-EU summit amid a rising caseload in Belgium, and tweeted that he would not attend any Holi festivities.