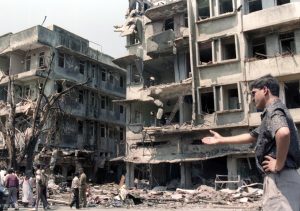 There is a clear continuum from the events that led up to the demolition of the Babri Masjid in 1992 to the looming darkness that confronts India today. But it's not what you think.
1992 was an age of incoherence in India. A succession of weak, fractious, inept, and short-lived governments had pushed the country to the brink of bankruptcy and chaos. A fledgling Congress Party-led coalition under the leadership of Prime Minister P.V. Narasimha Rao was struggling to consolidate its position in Parliament and the administration, and to restore economic stability through a slew of reforms.
There were raging insurgencies in multiple theaters across India, the worst of these in Punjab, where a total of 3,883 people lost their lives in 1992 to a Sikh separatist movement before it was defeated, abruptly and comprehensively, the following year. In the northern state of Jammu and Kashmir, Islamist separatist terrorism backed by Pakistan resulted in 1,909 fatalities; multiple insurgencies in India's Northeast saw 492 killed. Another 788 persons were killed in a widening Naxalite (left-wing extremist) rebellion along India's eastern board, spanning large areas from Andhra Pradesh to Bihar. The combined toll of all such violence was 7,072 fatalities in 1992 (all data from the South Asia Terrorism Portal).