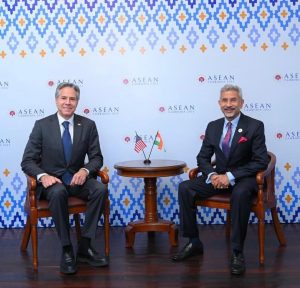 India's Minister for External Affairs S. Jaishankar (right) with U.S. Secretary of State Antony Blinken at a meeting on the sidelines of the ASEAN-India summit in Phnom Penh, Cambodia, Nov. 13, 2022.Credit:
Twitter/ Dr S. Jaishankar
At an annual preview of Indo-Pacific issues in Washington this month, the White House coordinator for Indo-Pacific affairs, Kurt Campbell, was very clear about what the United States wants for 2023. "Our interests are to see India playing an ever larger, responsible role in almost everything that we're doing," he said.
That's been a long-standing objective in U.S. foreign policy, and this seems as good a year as any to push India more proactively, given that New Delhi will play host to a pivotal G-20 Summit in 2023.
But so far as Washington is concerned, the road to a no-holds-barred partnership with India will not be without challenges. Through much of 2022, Washington was frustrated by India's unwillingness to use its seat on the U.N. Security Council to act against various rivals. India abstained on sundry resolutions on Ukraine, Iran, and even Myanmar. India also sat mum through Chinese provocations around Taiwan.
This year, alongside the G-20, India will also hold the presidency of the Shanghai Cooperation Organization (SCO) led by China and Russia — a forum that in recent times has highlighted the burgeoning common ground between the three countries.