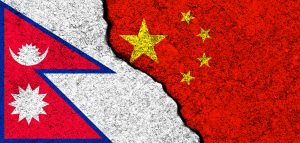 Since the formation of a new government following elections in November, Nepal has witnessed an escalated Chinese engagement on the political front. The post-election coalition saw the Communist Party of Nepal–Unified Marxist Leninist (CPN-UML) and Communist Party of Nepal–Maoist Center, led by K.P. Sharma Oli and Puspa Kamal Dahal respectively, join together to form the government with Dahal as prime minister. China seemed confident about renewing its political space in Nepal, winning back the advantage Beijing enjoyed during the rule of the Nepal Communist Party (NCP), formed by the merger of the CPN-UML and the Maoists, under the leadership of Oli until 2021.
New Chinese envoy Chen Song, since his arrival in January of this year, has been aggressively engaging with Nepal's political leaders, following in the footsteps of former Ambassador Hou Yanqi. A few recent incidences include the Chinese embassy's announcement of Pokhara International airport as a flagship project under the Belt and Road Initiative (BRI) on the eve of the airport's inauguration; the arrival of a technical team to undertake the feasibility study of the proposed Trans-Himalayan Railway Network; and an assertive press conference by Chen Song on his arrival on January 8 at the airport. These rapid-fire moves signify Beijing's desperation to capitalize on the presence of a friendly government under Dahal's leadership.
The recent upheaval in the political environment in Kathmandu has taken an inimical turn for Beijing. The revival of the pre-election Nepali Congress (NC)- and Maoist Center-led five-party coalition, has scuttled China's hopes for an extended period of influence.