The two sides are looking to make the American and Indian semiconductor industries complementary rather than competitive.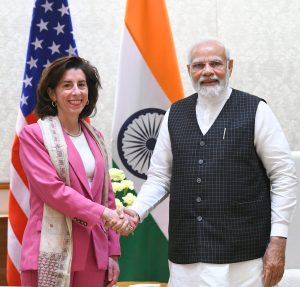 U.S. Secretary of Commerce Gina Raimondo's recent trip to New Delhi shows the close relationship between U.S.-India strategic and commercial interests. Secretary Raimondo began her visit by meeting with Minister of External Affairs
S. Jaishankar
and National Security Advisor
Ajit Doval
and closed by
meeting
with Prime Minister Narendra Modi. In between, Raimondo and Commerce and Industry Minister Piyush Goyal
convened
a much-delayed meeting of the U.S.-India Commercial Dialogue. But even that meeting was focused on a product of vital strategic importance to the U.S. and India in their competition with China –
semiconductors
.
Traditional trade matters were largely ignored or left to a forum of private sector CEOs.
The main topic of Raimondo's interactions with Jaishankar, Doval, and Modi was the Strategic Trade Dialogue. The parameters of this so-called "new" dialogue are not clear, and it is actually not new at all. Rather, it follows on a long history of attempts to address Indian complaints that India is being denied access to the most advanced U.S. defense-relevant technologies. The most recent "new" attempt to address this issue was the initiative on Critical and Emerging Technologies (iCET) announced by President Biden and Prime Minister Modi in May 2022.