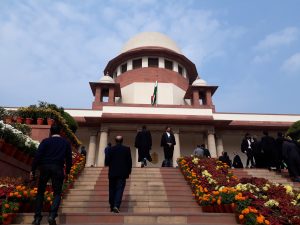 The Supreme Court of India has been the subject of controversy over the remit of its powers in recent years. Over the past few decades, the scope of the judiciary has expanded to such an extent as to call into question the doctrines of separation of powers, checks and balances, and democratic legitimacy.
At the heart of the matter is the fact that the Supreme Court has accrued enormous power, beyond that which most judiciaries hold. In the 1970s, in response to the increasingly autocratic rule of Prime Minister Indira Gandhi of the Congress Party, the Supreme Court established the "basic structure doctrine" in the 1973 case Kesavananda Bharati v. State of Kerala. This doctrine, which came about through a decision by a slim margin of 7-6 judges held that Parliament could not pass amendments that altered the "basic structure" of the constitution, even though the procedure for amendments is clearly laid on in Article 368 of the Indian Constitution. The problem is that there is no consensus on what elements are part of the "basic structure" of the constitution, although fundamental rights, federalism, separation of powers, and other key elements are often listed.
The Supreme Court used the precedent set by Kesavananda Bharati in the 1980 Minerva Mills v. Union of India case to overturn parts of the Constitution (Forty-second Amendment) Act, 1976 that was passed by Parliament. Around the same time, the apex court also began to allow public interest litigation, wherein any individual could file a case based on perceived public interest regardless of standing. This stands in contrast to the United States, where an individual can file a suit only if he or she has an actual and particularized injury. As a result, the Supreme Court began to take on an increasingly powerful role, sometimes functioning as a secondary legislature.