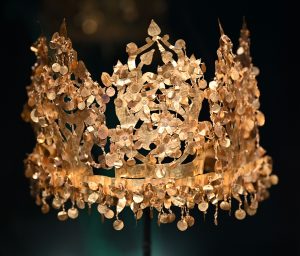 Amid Afghanistan's
budget setting
struggles
, Acting Minister of Information and Culture Mohammad Tahir Zuhair on Thursday urged politicians to avoid politicizing Afghanistan's historical treasures.
Earlier in the week, the speaker of the Wolesi Jirga, the lower chamber of Afghanistan's parliament, Mir Rahman Rahmani, warned that the famed Bactrian gold treasure was not safe from corruption. "The Bactrian gold treasure — or Afghanistan's support for the national currency — must be sent to a reliable country for safekeeping because Afghanistan's Central Bank lacks credibility," he said. Rahmani highlighted rampant corruption in Afghanistan, arguing that the gold was in danger of being plundered.
A recent report from the U.S. Special Inspector General for Afghanistan Reconstruction (SIGAR) highlighted that despite efforts to stop cash smuggling, huge amounts continue to pass through Afghanistan's Hamid Karzai International Airport unaccounted for. Almost a decade after installing cash counting machines to track cash leaving the country, SIGAR found they had not been connected to the internet and were not regularly used by customs officials. And it's not just cash that flows through the airport undetected. Screening for non-VIP passengers had improved, SIGAR found, but VIPs are not subject to the same level of scrutiny — while their bags are scanned, no signs in the VIP terminal announce cash export limits, there are no cash counting machines, and there are no declaration forms provided. VVIPs, or very very important persons, aren't screened at all.