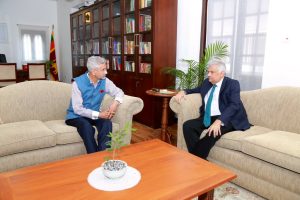 India's foreign minister said Friday his country has given financial assurances to the International Monetary Fund to facilitate a bailout plan to help neighboring Sri Lanka emerge from its worst economic crisis, in a first formal announcement from one of the island nation's creditors.
India's External Affairs Minister S. Jaishankar announced the support while on a two-day visit to Sri Lanka, where he met with President Ranil Wickremesinghe and other Cabinet ministers.
"We felt strongly that Sri Lanka's creditors must take proactive steps to facilitate its recovery. India decided not to wait on others but to do what we believe is right. We extended financing assurances to the IMF to clear the way for Sri Lanka to move forward," he said.
"Our expectation is that this will not only strengthen Sri Lanka's position but ensure that all bilateral creditors are dealt with equally," Jaishankar added. He did not elaborate on the kind of assurances given.
India's official credit to Sri Lanka is $4.4 billion excluding other forms of lending. Among Sri Lanka's leading creditors are Japan and China.
Sri Lanka and the IMF have reached a preliminary agreement on a $2.9 billion bailout plan over four years, but final approval depends on assurances given by creditors on the debt restructuring.