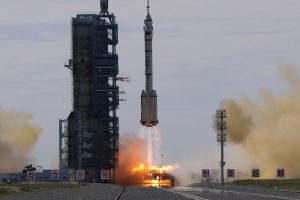 A Long March-2F Y12 rocket carrying a crew of Chinese astronauts in a Shenzhou-12 spaceship lifts off at the Jiuquan Satellite Launch Center in Jiuquan in northwestern China, June 17, 2021.Credit: AP Photo/Ng Han Guan
China recently reconstituted its Ministry of Science and Technology and created a powerful Central Science and Technology Commission in order to ensure that the Chinese Communist Party (CCP) has more direct oversight over the ministry. This change, which was recommended by the State Council of the People's Republic of China, recognizes that technology competition with the United States requires direct supervision from the highest level of the party.
This reorganization was carried out during the "Two Sessions," annual meetings of National People's Congress (NPC) and Chinese People's Political Consultative Conference (CPPCC) held in Beijing in March of this year. This is where policy direction of the CCP becomes clear as thousands of delegates ratify institutional and personnel changes, legislate, and endorse government budgets in rather ceremonial but important meetings. Dissent is hardly allowed.
The result of endorsing the dominant role of the CCP over China's technology development in these sessions implies the importance China's leaders place on the sector. During the Two Sessions, Xi indicated that "enhancing integrated national strategies and strategic capabilities" is key to China's aim of becoming a global power. In this, the development of key strategic technologies plays a vital and consequent role.
By 2049, China aims to emerge as a global leader in three strategic technologies, identified by President Xi Jinping as critical for China's national rejuvenation: space, AI, and quantum communications and computing.