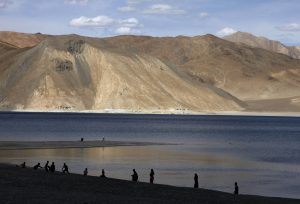 Tensions along the China-India border high in the Himalayas have flared again in recent weeks.
Indian officials say the latest row began in early May, when Chinese soldiers entered the Indian-controlled territory of Ladakh at three different points, erecting tents and guard posts. They said the Chinese soldiers ignored repeated verbal warnings to depart, triggering shouting matches, stone-throwing and fistfights. China has sought to downplay the confrontation while providing little information.
A look at the history and current relations between the two countries and how events may develop:
Over recent weeks, thousands of soldiers from the two countries have been facing off just a few hundred meters (yards) from each other in Ladakh's Galwan Valley. China has objected to India building a road through the valley connecting the region to an airstrip, possibly sparking its move to assert control over territory along the border that is not clearly defined in places.