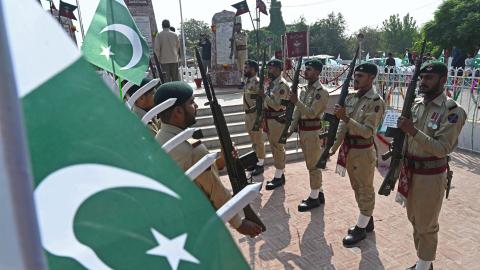 Last Saturday, former Pakistani Prime Minister Imran Khan joined a long list of elected leaders in the country to be jailed on corruption charges after removal from office. Khan's conviction for failing to declare income from selling gifts he received as prime minister disqualifies him from leading his Pakistan Tehreek-e-Insaf (PTI) party and from contesting national elections expected by November. Khan's cult-like supporters regard him as a figure who can save Pakistan from corrupt, dynastic politics. With their leader in prison, they will step up their protest campaign against the former prime minister's opponents, as well as the powerful military.
The military establishment now seems likely to prevail. Pakistan has never been a full democracy; the military ruled directly for decades and has retained a say in policymaking with a civilian government in power. Intelligence officials have influenced political parties and judges and manipulated elections. But a recent crackdown, which began after some of Khan's supporters attacked military facilities after his initial arrest on May 9, has muzzled critics and left even less room for civil liberties. Dozens of opposition activists have been detained; PTI claims that the arrests number in the thousands.
As Pakistan's traditional political parties join the generals in cornering Khan, the country is left with no major force calling for unadulterated democracy. The military says it is not involved in politics, but politicians are still pursuing the generals' approval. And Khan himself is hardly a democracy advocate. For more than a year, he has fought the military, not to transform Pakistan's political system but to pressure the generals into supporting his return to power. With politicians vying to secure the military's backing instead of asserting civilian supremacy under the constitution, Pakistan seems fated to hybrid rule—if not outright military dominance.