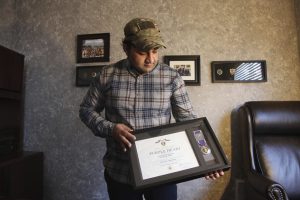 In a quiet cul-de-sac of this major North Carolina city, two boys kicked a soccer ball as their father tended to the tiny scraped knee of a third. "You're strong," Zia "Booyah" Ghafoori said, scooping up his youngest son.
A U.S. flag fluttered gently from a pole attached to their modest two-story home, the epicenter of the Afghan family's new life in America.
Ghafoori, 36, came to the United States with his pregnant wife and three small children in 2014 on a Special Immigrant Visa. The visa is Ghafoori's reward for his 14 years as an interpreter for U.S. Special Forces or, as Ghafoori calls them, "his brothers." His nickname, Booyah, came from them.
While earning the admiration and respect of the U.S. military, Ghafoori's work made him a traitor in the eyes of some of his fellow countrymen. He came to the United States to escape possible retribution from the Taliban, the extremist Islamic group that has steadily regained power in the country since being ousted by the U.S. after the Sept. 11 attacks.
Hostility toward the United States has spiked in neighboring Iran and in Iraq in recent days after President Donald Trump ordered an airstrike that killed a top Iranian military leader in Baghdad.