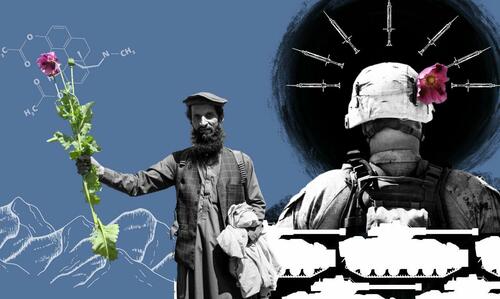 The Taliban government in Afghanistan – the nation that until recently produced 90% of the world's heroin – has drastically reduced opium cultivation across the country. Western sources estimate an up to 99% reduction in some provinces. This raises serious questions about the seriousness of U.S. drug eradication efforts in the country over the past 20 years. And, as global heroin supplies dry up, experts tell MintPress News that they fear this could spark the growing use of fentanyl – a drug dozens of times stronger than heroin that already kills more than 100,000 Americans yearly.
The Taliban Does What the US Did Not
It has already been called "the most successful counter-narcotics effort in human history." Armed with little more than sticks, teams of counter-narcotics brigades travel the country, cutting down Afghanistan's poppy fields.
In April of last year, the ruling Taliban government announced the prohibition of poppy farming, citing both their strong religious beliefs and the extremely harmful social costs that heroin and other opioids – derived from the sap of the poppy plant – have wrought across Afghanistan.
It has not been all bluster. New research from geospatial data company Alcis suggests that poppy production has already plummeted by around 80% since last year. Indeed, satellite imagery shows that in Helmand Province, the area that produces more than half of the crop, poppy production has dropped by a staggering 99%. Just 12 months ago, poppy fields were dominant. But Alcis estimates that there are now less than 1,000 hectares of poppy growing in Helmand.