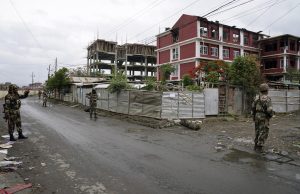 A permanent solution to the problems plaguing India's violence-torn Manipur state lies in the effective sealing of the international border with Myanmar, India's Home Minister Amit Shah told a press conference on June 1. He was speaking in Imphal, the capital of the northeast Indian state, where ethnic clashes since May 3 have claimed more than 80 lives and displaced over 40,000 people.
June 1 was the final day of Shah's four-day visit aimed at brokering peace between the Meitei Hindus, who make up more than half of Manipur's estimated 3.64 million population, and the tribal people of the Kuki-Chin ethnic group, who make up roughly one-fifth of the population. Shah held meetings with 25 Kuki civil society organizations and 22 Meitei civil society organizations during these four days.
"For a permanent solution, we have already set up wired fencing across 10 kilometers of the Manipur-Myanmar border on a trial basis, work tender has been invited for fencing on another 80 kilometers, and a survey for fencing the rest of the Manipur-Myanmar border is being initiated," Shah said, adding that biometric data and retinal scans of people coming from neighboring countries are also being recorded.
Manipur shares a 400-kilometer border with Myanmar, most of which is unfenced. The India-Myanmar frontier is an open border with a free movement regime, which permits the tribes residing along the border to travel up to 16 kilometers across the boundary for up to three days without visa restrictions.
According to Athouba Khuraijam, spokesperson of the Coordinating Committee on Manipur Integrity, an umbrella group of several Meitei civil society organizations, the group categorically told Shah during a recent meeting that at the root of the current crisis is "narco-terrorism involving illegal Kuki-Chin immigrants from Myanmar, cross-border Kuki insurgent groups, and Myanmar-based drug cartels."
"We told Shah that stopping immigration from Myanmar and identifying illegal immigrants in Manipur and deporting them has to be the government's priority to restore normalcy," Khuraijam told The Diplomat. "The government needs to hit the drug cartel hard and cancel the suspension of operations (SOO) agreement with the Kuki insurgent groups led by Myanmarese nationals."