Husain Haqqani and Aparna Pande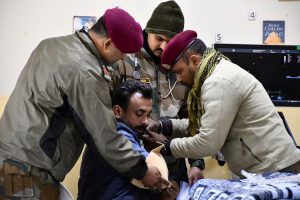 India's response to the recent devastating earthquake in Turkey and Syria reflects its policy of robust engagement in the Middle East. It follows a visit by Egyptian President Abdel Fateh el-Sisi to India, and an expansion of ties with Israel and Arab countries in the Gulf. Coupled with long-standing connections to Iran, India's overtures to Turkey, Israel, and the Arab states position India as a potentially significant actor in the Middle East at a time when the United States appears to be downsizing its position in the region.
India has, since independence, engaged actively with the Middle East. The quality of that engagement has changed in recent years, reflecting India's desire to be a more assertive global power in a multipolar world. India's quick large-scale aid for Turkey and Syria is part of its desire to be seen as the country of first response, providing disaster relief and humanitarian assistance in its wider neighborhood.
But the latest emergency response – which includes an entire field hospital and medical team along with machines, medicines, and hospital beds — is strategic, not just humanitarian. It is part of several actions enhancing India's profile across the Middle East.