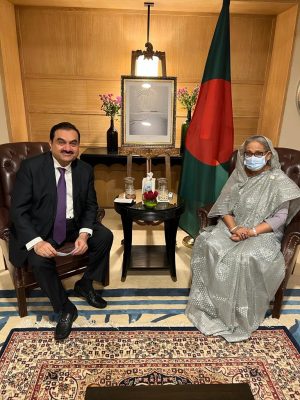 With Indian billionaire Gautam Adani's business empire and practices coming under global scrutiny following accusations that he has been indulging in brazen stock manipulation and accounting fraud schemes, South Asian countries where the Adani Group struck deals are calling for revisiting of contracts.
Bangladesh, where Adani Power (Jharkhand) Ltd signed a Power Purchasing Agreement (PPA) with Bangladesh Power Development Board (BPDB) in 2017 has asked for a revision of the contract. "We have communicated with the Indian company seeking revision of the agreement," an official of the state-run BPDB said.
It was during his visit to Bangladesh in 2015 that Indian Prime Minister Narendra Modi asked his Bangladeshi counterpart Sheikh Hasina to "facilitate the entry of Indian companies in the power generation, transmission and distribution sector of Bangladesh." It culminated in the two sides inking deals worth $4.5 billion for Indian government-run and private companies to sell electricity to Bangladesh. This included a contract for Adani Power to build a $1.7 billion, 1,600-megawatt coal power plant in Godda in India's eastern state of Jharkhand, which would supply power to Bangladesh.