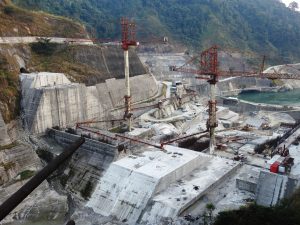 A hydel dam in India's Northeast that was stalled following large scale protests is now scheduled for completion in three-and-a-half years.
Straddled across the twin states of Assam and Arunachal Pradesh, the Lower Subansiri hydroelectric project was stuck for the past eight years due to various issues. All the hurdles were removed following a judgment by the National Green Tribunal (NGT) that dismissed a petition that had raised concerns over the project.
The Lower Subansiri project, which will produce 2000 megawatts of power, is being developed as part of India's hydropower program to generate a total of 50,000 megawatts. Among the Central Electricity Authority (CEA)'s prefeasibility studies of 162 projects, a total of 5,600 megawatts was planned on the Subansiri river across three components. The river originates in Tibet and is one of the largest tributaries of the Brahmaputra.
The run-of-the-river project is expected to incur an expenditure of over $2.8 billion. It will consist of a concrete gravity dam, which will be 116 meters high from the river bed level and 130 meters from the foundation with a length of 284 meters.
Concerns Over Safety Measures