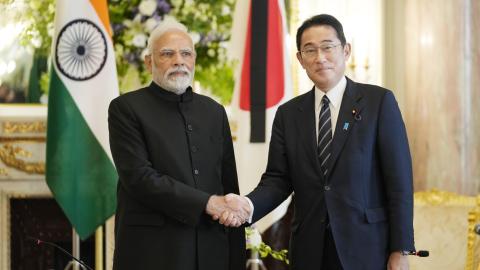 The Quadrilateral Security Dialogue, also known as the "Quad," is a security framework that includes Australia, India, Japan and the US It was launched by former Prime Minister Shinzo Abe before his assassination, and it has become a core part of the strategy to counter China. Among the four members, India is considered to be the most out-of-step, especially when it comes to military matters. Nonetheless, India would play a crucial role in one of the most serious security challenges the Quad could face: a Chinese invasion of Taiwan.
Even if China invades Taiwan and the US, Japan and Australia must fight to defend it, India is unlikely to join. India has two aircraft carriers, for example, but it is unlikely to dispatch them to defend Taiwan. So far, the carriers have visited Sri Lanka and Maldives on friendship visits, but New Delhi has not dispatched them to countries further abroad.
Indian Navy destroyers have made port calls in Japan more often, and Indian submarines are deployed in the South China Sea. However, while India participated the November 2022 "Malabar" joint exercises with the US, Japan, and Australia, it did not join them and the UK in the "Keen Sword" exercises that simulated a Taiwan crisis. Both joint exercises happened near Japan at nearly the same time. India's restraint indicates that one should not expect it to join a war to defend Taiwan.
Despite this, India will be vital in defending Taiwan for three reasons.