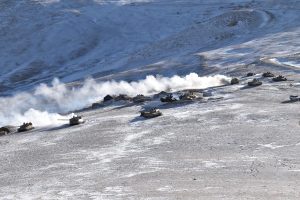 In this photograph provided by the Indian Army, tanks pull back from the banks of Pangong Tso lake region, in Ladakh along the India-China border on Wednesday, Feb. 10, 2021.Credit: Indian Army via AP
India's situation along its disputed border with China in Ladakh appears to be far more serious than the government is letting on.
In her research paper submitted at the 57th annual conference of India's top police officials in New Delhi on January 20-22, Leh's Senior Superintendent of Police P.D. Nithya said that "due to restrictive or no patrolling" by Indian forces at several patrolling points, India had lost access to patrolling points 5-17, 24-32, 37, 51, 52 and 62.
The absence of Indian troops at these patrolling points opened up space for Chinese soldiers to move in, the paper notes, forcing India to accept that these areas now have a Chinese presence. This has led to a shift in the LAC "towards the Indian side."
Since April-May 2020, when PLA soldiers backed by tanks and armored personnel carriers crossed into areas that were previously patrolled by the Indian Army, the situation along the LAC has been tense.
The research paper argues that Indian apprehensions over drawing Chinese ire, even objections to Indian presence in territory deemed disputed by Beijing has resulted in India adopting a "play safe" strategy that has resulted in India pulling back from territory it controlled previously.