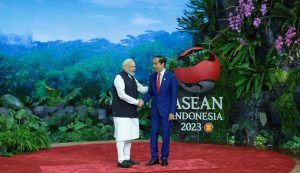 Indian Prime Minister Narendra Modi (left) shakes hands with Indonesian President Joko Widodo upon arriving to the 20th ASEAN-India Summit in Jakarta, Indonesia, Sep. 6, 2023.
India recently hosted the G-20 summit, which was dubbed a major diplomatic success. As such, the summit served to showcase India's multifaceted convening power.
But Southeast Asia was conspicuously absent from the G-20 guest list. Indonesia, the current ASEAN chair was of course invited, as Jakarta is a member of the grouping. So, too, was Singapore, a close Indian partner that is regularly invited to G-20 summits. But a guest invitation could have been extended to Laos, the incoming ASEAN chair, or even Malaysia, which will hold the post in 2025.
Instead, Indian engagement with Southeast Asia was highlighted during the 20th ASEAN-India summit in Jakarta, held just two days before the G-20's convening. While the ASEAN-India summit made some welcome progress, including a new joint statement on maritime cooperation, there was a missed opportunity to carry over those good feelings to converging interests through the G-20 platform.